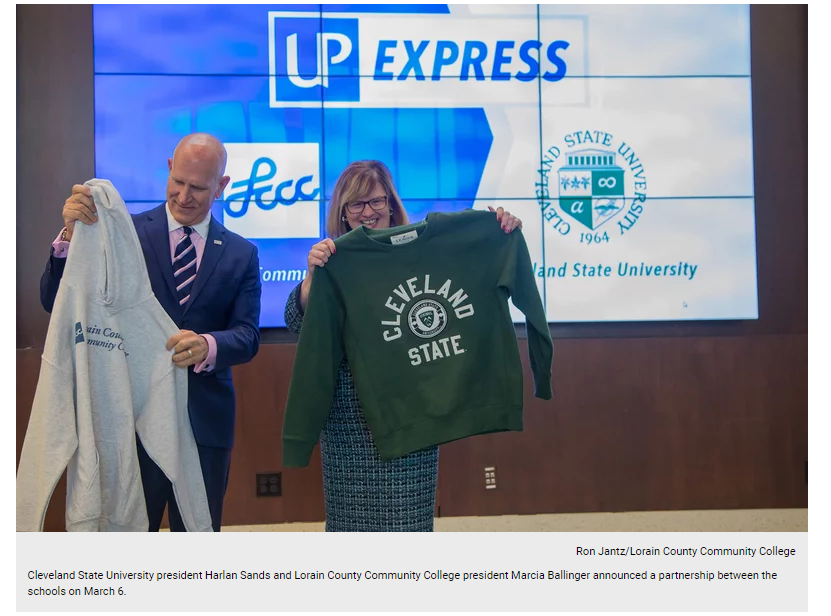 Last October, Kent State University and Eastern Gateway Community College announced a new partnership that would allow Eastern Gateway students to earn some bachelor's degrees without leaving their campus. The University of Akron and Stark State College announced a dual admission and enrollment program that would allow students to use amenities and facilities on both campuses.
In February, Cleveland State University announced a new program with Cuyahoga Community College that will give students access to resources at the university. In March, Cleveland State announced a similar program with Lorain County Community College, which will let LCCC students take Cleveland State courses before they transfer.
She said that although those students are no longer Lakeland students, giving them access to bachelor's, master's and doctorate programs close to home helps the college meet its mission. The college's constituents had expressed that as a need, so the college found a way to meet it.
And this setup is similar to the one Kent State University will offer at Eastern Gateway Community College, which has campuses in Steubenville and Youngstown.
The program is new, and decisions on how each class will be offered will be made as it grows. To lessen transportation issues for students, Kent State may teach courses on the community college campus or offer online or virtual learning courses, said Nathan Ritchey, vice president for Kent State System Integration and interim dean of the Regional College.
Instructors could be drawn from existing faculty, or new ones could be hired, he said.
If the course is on Eastern Gateway's campus, revenue and costs have to be split, Ritchey explained. Eastern Gateway maintains the classroom and should be reimbursed, and Kent State is paying the instructor, so the university receives a share, too.
"When you have a good partner at the table, you can work through those details," Ritchey said.
Eastern Gateway benefits, receiving a little revenue from the space it's leasing to Kent State and gaining access to shared technology, said Jimmie Bruce, president of Eastern Gateway Community College. However, the main benefit is the access students will get to bachelor's degree programs locally.
And Ritchey's not afraid the program will take away from Kent's freshman and sophomore classes, at the regional campuses or otherwise. Students tend to choose a campus for a variety of reasons, he noted, and they don't always transfer from one Kent campus to another even. That's why the university offers some four-year degrees at its regional campuses.
"It definitely takes some coordination," Ritchey said. "It definitely takes the covenant or the pledge that we all stay in our lanes."
Similarly, Bill Kraus, associate provost for enrollment management at the University of Akron, doesn't see much overlap between the students at Stark State and the university's freshman population. Community colleges tend to have larger populations of adult learners. And the Direct Connect program between the two institutions could let the university stay connected with students who are currently being denied admission and choosing to attend Stark State.
The higher education environment is competitive, and there are fewer high school graduates than there were in the past, Kraus said. Transfer students, like those at the community colleges, offer universities another pool of students from which to draw.
On the community college side, the state's move to performance-based funding for colleges and universities in recent years has been a factor in the growth of these programs, said Stephanie Sutton, vice president for enrollment management at Stark State. Degree completion plays a significant role in the state's funding model for schools.
"It's not only the right thing to do, but now it's also how the institutions are supported," Sutton said.
In the Direct Connect program, Stark State, which has campuses in North Canton and Akron, and the University of Akron have teams that will work together to map out plans for students and make sure the courses they're taking are relevant to their career goals. The program will take a 2+2 approach for most students — two years at Stark State and then two at the University of Akron — but Sutton said the program is flexible enough that students can transfer earlier, take more classes at Stark State longer or be dually enrolled if that's the best fit for them.
The dual enrollment allowed by some of these programs could complicate, a bit, how enrollment is reported.
For the Cleveland State-Lorain County Community College UP Express partnership, both institutions will report the hours a student attends their particular institution to the state, said Marisa Vernon-White, associate provost for enrollment management and student success at LCCC in Elyria. But for federal financial aid purposes, the school a student spends the most time at serves as his or her home institution.
full link to article is below:
https://www.crainscleveland.com/education/northeast-ohio-community-colleges-and-universities-find-more-ways-work-together