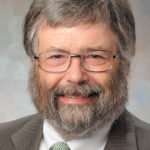 Dr. John C. Green, became the University's interim president May 1, 2018. Dr. Green has more than 30 years of service as a UA administrator and faculty member.
He has led the Buchtel College of Arts and Sciences, UA's largest academic unit, as dean and interim dean since 2015. He also served as vice dean for liberal arts, chair of the Department of Political Science, and interim chair for five other departments.
Green is the director of the nationally renowned Ray C. Bliss Institute for Applied Politics, a senior research advisor to the Pew Forum on Religion and Public Life, and a political scholar whose insights are frequently reported by local, state and national media.
A Distinguished Professor of Political Science, Green was twice selected as Outstanding Faculty Member by the Board of Trustees. His works include 9 books, 32 edited books, 39 refereed journal articles and 120 other scholarly and popular publications.
He earned a Ph.D. from Cornell University and Bachelor of Arts from the University of Colorado. Green resides in Akron.