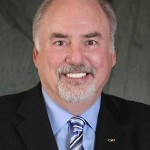 In 2009 Dr. Ronald Berkman became President of Cleveland State University from Florida International University (FIU) in Miami where he served most recently as Executive Vice President, Provost and Chief Operating Officer.
Dr. Berkman received his Ph.D. from Princeton University in 1976. Prior to serving at FIU, he taught at The Woodrow Wilson School at Princeton University, The University of California at Berkeley, Brooklyn College, the City University of New York (CUNY) Graduate Center, New York University and the University of Puerto Rico.
In 1997, Dr. Berkman was named Dean of the College of Urban and Public Affairs at Florida International University. Several years later he was appointed Executive Dean of a large, interdisciplinary College with accredited Colleges of Nursing, Health Sciences, Public Health, Social Work and Policy and Management.
As the Dean of Urban Affairs at CUNY, he was responsible for developing research and technical assistance partnerships with all facets of New York City, New York State and federal government agencies and non-governmental organizations.
He has served as Chair of the Dean's Council for the National Association of Schools of Public Affairs and Administration as well as various committees of the Association of Public Policy and Management.