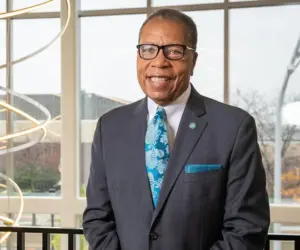 Dr. Johnson is a proven leader in higher education and an expert in institutional transformation," said Board Chair Jacqueline Gamblin. "He has a passion for transformation and excellence in higher education. He's the right person to lead us through this time of transition, and we look forward to his leadership as we search for a permanent president."
With nearly 30 years of experience as a college president, Johnson is a nationally-recognized educator, author, and expert in institutional transformation. Most recently, he served as president of Cuyahoga Community College (Tri-C), a position he held from 2013 through 2022. There, he focused on strengthening the institution's longstanding mission to provide high-quality, accessible, and affordable educational opportunities and services.
Johnson has also served as president of the Community College of Allegheny County, a multi-campus college in and around Pittsburgh; chancellor of Delgado Community College in New Orleans; and president of Tri-C's Metropolitan Campus in Cleveland; and served a two-year term as president of the Pennsylvania Commission for Community Colleges.
His books include "Change the Lapel Pin: Personalizing Leadership to Transform Organizations and Communities" (2018) and "Capturing Change: Creating Systems of Transformation Through Continuous Improvement" (2021), which provide insight into how leaders can create lasting systems of transformation.
Johnson's work on local, statewide, and national boards has focused on workforce development, institutional innovation, and accountability. He has received numerous awards and accolades for his vision and leadership in higher education.
Johnson has agreed to serve as Interim President for one year. He will serve upon the departure of President Dr. Jack Thomas, who did not seek renewal of his contract and will step down when it expires on June 30, 2023.