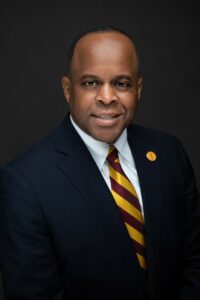 Dr. Jack Thomas joins Central State University July 1, 2020 as its ninth President with a long-term successful track record in several different academic settings.
Dr. Thomas brings visibility and insights from experience in every aspect of academia. Roles he has held have included President, Interim President, Provost and Academic Vice President, Executive Vice President, Executive Assistant to the President, Dean, Department Chair and English Professor.
Dr. Thomas is currently a Senior Fellow with the American Association of State Colleges and Universities. Previously, Dr. Thomas served as President of Western Illinois University (WIU), a state-run university where he served for nearly a decade. As President, he successfully managed a budget of nearly $224 million during a period of unprecedented state fiscal challenges.
At WIU, Dr. Thomas was responsible for a number of accomplishments, including increasing diversity, creating new academic programs, managing fiscal and cash flow issues brought on by the state's financial crisis, investing in STEM and other academic programs, increasing funding for student scholarships, and establishing a presidential institute to foster and improve corporate, community and K-12 relations. Under Dr. Thomas' leadership, the Institution constructed a new campus in Moline, Illinois and achieved its multimillion-dollar capital campaign goal. WIU has been rated as a "Best in the Midwest College" by the Princeton Review and as a top tier Midwest Universities Master's institution by U.S. News and World Report.
Prior to WIU, Dr. Thomas spent more than 20 years serving in various capacities in several institutions of higher education. From 2004 until 2008, he served as Senior Vice Provost for Academic Affairs and Interim Dean at Middle Tennessee State University. There, Dr. Thomas improved diversity, assisted with the design of new academic programs, coordinated the implementation of a new key assessment instrument, enhanced academic reviews and mentoring.
From 1990 until 2004, Dr. Thomas served in several roles at the University of Maryland Eastern Shore, including Interim President, Executive Vice President and Associate Vice President for Academic and Student Affairs. During his tenure, he enhanced fundraising, implemented new academic programs and drove increased enrollment.
Earlier in his career, Dr. Thomas served as an English instructor at South Carolina State University and Johnson C. Smith University.
Dr. Thomas is a nationally and internationally recognized leader in higher education administration.
Dr. Thomas' influence on the academic community extends to his service on several distinguished boards including the Marguerite Casey Foundation Board of Directors; the Illinois Board of Higher Education; the Stillman College Board of Trustees; the American Association of Blacks in Higher Education Board; the American Council on Education Council of Fellows; the NCAA Presidential Forum; the Illinois Campus Compact Board; the Heart of Tennessee Chapter of the American Red Cross Board; and the Rutherford County YMCA Board.
Nationally, Dr. Thomas graduated from the Harvard Leadership Program, served as an American Council on Education Fellow, was a Kellogg-NAFEO Fellow, participated in the Salzburg Seminar in Salzburg, Austria, and participated in Leadership Middle Tennessee. He has also served as the chair of the NCAA Accelerating Academic Success Program (AASP) Selection Committee. He served as the Chairperson of the (AASCU) Christa McAuliffe Award Presidential Selection, and as a committee member of the Middle States Visitation Team.
A native of Lowndes County, Alabama, Dr. Thomas holds a Ph.D. in English (Literature and Criticism) from Indiana University of Pennsylvania, a Master of English Education from Virginia State University, and a Bachelor of Arts in English from Alabama A & M University. He is a noted scholar and lecturer, as well as a highly sought-after keynote speaker presenting his research and inspirational messages locally, nationally, and internationally.
Dr. Thomas is a published researcher, and the focus of his research has been on black males in literature. Additionally, Dr. Thomas is the author of numerous publications and professional presentations including his most recent publication titled, Within These Gates: Academic Work, Academic Leadership, University Life, and the Presidency. Dr. Thomas has been a committed advocate for diversity and inclusion. He has been recognized by Minority Access, Inc. and others for his work helping to provide meaningful and transformative opportunities for minorities through mentorship and access at various universities. Dr. Thomas has done further graduate work in theological studies at Liberty University and is an ordained Baptist Minister. Dr. Thomas' current body of work includes research on public institutions that have had to make transformative programmatic and human capital decisions due to decreased federal and state financial support and declining enrollment. The working title of Dr. Thomas' latest book is "From the Segregated South to the Presidency."