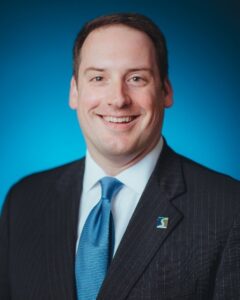 Eric Braun, newly appointed Interim President of Shawnee State University, began his career in higher education in 2009 when he joined Shawnee State's senior leadership staff as Executive Director for Development and President of the SSU Development Foundation.
Since 2015, Braun has served as Vice President for Advancement and Enrollment Management for Shawnee State, overseeing the functions of recruitment and admissions, alumni relations, marketing and communications, development and fundraising, government relations, grants, athletics, financial aid, housing, auxiliary services, workforce development, the Center for Lifelong Learning, Vern Riffe Center for the Arts, and the Kricker Innovation Hub.
A native of Portsmouth, OH, Braun is a graduate of Wake Forest University in North Carolina where he earned his undergraduate and law degrees and remains admitted to practice in state and federal court. He is scheduled to earn his doctorate in organizational development this fall from Vanderbilt University.
Braun was appointed by Governor Kasich in 2014 to the Ohio Tuition Trust Authority, a board that provides investment oversight of Ohio's 529 college savings program with over $9B under management at the time. He was elected Executive Chairman in 2015 and served until 2018.
He currently serves on the Ohio Chamber of Commerce Board of Directors, the OhioMeansJobs WIOA Workforce Development Area 1 Board, and the OhioX public policy committee. Braun is a member of the Scioto County Bar Association, the Portsmouth Elks Lodge, and a past president of the Rotary Club of Portsmouth.