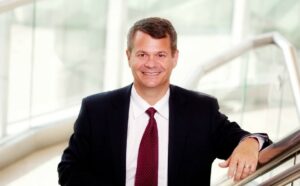 John Langell, M.D., Ph.D., M.P.H., M.B.A., was appointed by the Northeast Ohio Medical University Board of Trustees on July 24, 2019 to become the Northeast Ohio Medical University's seventh president, effective October 1, 2019.
Dr. Langell has more than twenty years of experience in higher education and has served in senior leadership positions in academic health care, industry, nonprofit organizations and the federal government.
In his most recent position, Dr. Langell served as vice dean for the School of Medicine as well as founder and executive director of the Center for Medical Innovation, both at the University of Utah. He was recruited to the University of Utah's Department of Surgery in 2006 as its director of acute care surgery and not long afterward also served as chief of general surgery at the George E. Wahlen VA medical Center.
During that same period, Dr. Langell, a veteran of the U.S. Air Force, maintained his reservist status while serving as CEO (Commander) of Air Force Health Care Facilities. Over the course of 11 years ― 2006 to 2018 ― he led four separate Air Force Reserve medical facilities. He was responsible for the leadership and management of all medical and allied health professionals as well as administrators.
Dr. Langell has specialized expertise in the treatment of diseases of the upper gastrointestinal tract, biliary tract and endocrine system (thyroid, parathyroid and adrenal glands). His clinical focus is in the application of advanced minimally invasive surgical techniques in laparoscopic surgery with special focus on diseases of the stomach, intestines, liver, gallbladder, pancreas and biliary tree. Additionally, he has expertise in the minimally invasive treatment of hernia disease, including abdominal wall and groin hernias, hiatal hernias, thyroid, parathyroid and adrenal glands.
Dr. Langell is well-known for his work as a minimally invasive gastrointestinal and endocrine surgeon, tenured educator, developer of advanced medical education programs, and federally funded researcher. But he is equally known for his effective, appreciative and inclusive style as a leader, his expertise as an innovator and operator; and his forward-thinking approaches as a change agent and Lean-Six Sigma Black Belt.
With more than a dozen patents filings ― six of which are licensed, three software copyrights and five companies of which he has been a founding partner, Dr. Langell is a supporter of research, enterprise, development and innovation.
Dr. Langell received his Bachelor of Science Degree at the University of California at Los Angeles. He received both his Doctor of Medicine (M.D.) and Doctor of Philosophy (Ph.D.) at Drexel University.
Dr. Langell completed his surgical residency at Stanford University Medical Center and a residency in Space and Aerospace Medicine at NASA/ University of Texas Medical Branch (UTMB). During this period, he earned his Master of Public Health Degree at UTMB while researching pharmacological countermeasures for space radiation toxicity. He also has a Master of Business Administration (M.B.A.) Degree, which he obtained in the Executive MBA program at the University of Utah.
Dr. Langell is married to Dr. Sara Whittingham, a former active duty flight surgeon, who currently practices anesthesiology at the University of Utah and the VA medical center.
The couple has two daughters, Sydney and Grace.