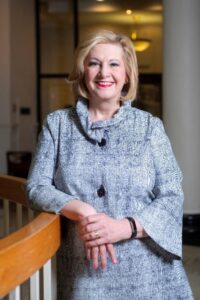 Lori Stewart Gonzalez, Ph.D., will join Ohio University from the University of Louisville where she currently serves as the executive vice president and university provost.
Dr. Gonzalez received her Bachelor of Arts degree from the University of Kentucky in speech pathology and audiology, a Master of Arts degree in communication disorders from Eastern Kentucky University and a Ph.D. in communication disorders from the University of Florida.
She began her academic career at Southern Illinois University at Carbondale in 1988. In 1991, she returned to UK as an assistant professor in the Communication Sciences and Disorders program. She then spent 20 years in roles as a professor and associate dean of Academic Affairs. In 2005, she was appointed dean of the College of Health Sciences, a position she held for seven years. In 2011, Dr. Gonzalez moved to Appalachian State University, where she served as provost and executive vice chancellor for three years, followed by a year as special advisor to the senior vice president for Academic Affairs at the University of North Carolina System. From 2015 until the spring of 2021, she served as the vice chancellor for Academic, Faculty and Student Affairs at the University of Tennessee Health Science Center in Memphis. In April of 2021, Dr. Gonzalez was appointed executive vice president and university provost at the University of Louisville, followed by one year of service as interim university president.
A native of the Appalachian region, Dr. Gonzalez was born and raised in the small town of Mt. Vernon, Kentucky. She credits her commitment to public education to her parents, who believed in the transformative power of education and instilled in her a responsibility to give back to her community.