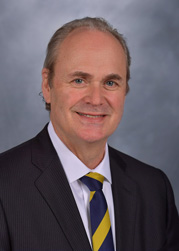 PRESIDENT TODD A. DIACON
Todd Diacon, Ph.D., assumed leadership of Kent State University as its 13th president on July 1, 2019.
Since April 2012, when Dr. Diacon joined Kent State as provost, he has been responsible for all academic functions of the university, leading the administration, faculty and staff within more than 20 academic units. This includes colleges, schools, departments and Regional Campuses of an eight-campus system that enrolls more than 38,000 students. In November 2017, he added executive vice president to his title following successful performance evaluations.
As provost, Dr. Diacon has been instrumental in developing creative ways to boost the university's international reach and reputation, including establishing the American Academy at the Pontifical Catholic University of Paraná, a major university in Brazil.
Dr. Diacon has helped the university attract talented deans, faculty and academic leaders, including Christina Bloebaum, Ph.D., dean of the College of Aeronautics and Engineering; Michael Lehman, Ph.D., inaugural director of the Brain Health Research Institute; and Neil Cooper, Ph.D., inaugural director of the School of Peace and Conflict Studies.
Dr. Diacon's commitment to the recruitment of diverse faculty significantly increased the number of faculty hires from underrepresented groups and contributed to Kent State earning the distinction as the No. 1 university nationwide in Forbes' list of America's Best Employers for Diversity 2019.
Before coming to Kent State, Dr. Diacon served as deputy chancellor at the University of Massachusetts Amherst, where he also was a professor of history. From 1989 to 2010, Dr. Diacon served at the University of Tennessee, beginning his career there as an assistant professor of history and moving up the ranks to vice provost for academic operations and executive director for academic assessment and program support.
A native of Wellington, Kansas, Dr. Diacon specializes in agrarian history and the history of central state power in Brazil. He earned his bachelor's degree from Southwestern College in Kansas and his master's and doctorate degrees from the University of Wisconsin-Madison.
He has authored publications on student success and on the administration of higher education, and he has written several journal articles and two books. Dr. Diacon's book "Stringing Together a Nation" won the 2005 Warren Dean Prize for the most significant book on Brazilian history.